Voice Private Lessons
Alvin K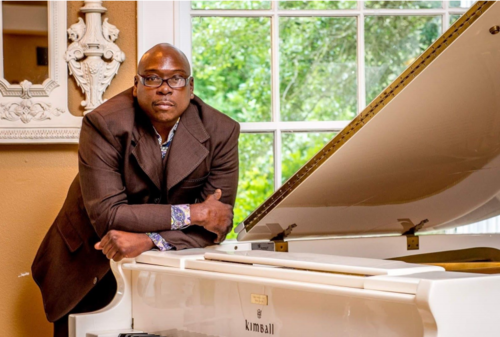 Born and raised in Houston, Texas, Mr. Alvin revealed great promise as a musician at an early age. Moving to New York in 1983, Alvin became the first African American piano player to play for the Tony Award-winning production of "CATS" at the tender age of 16-years old. After a critically acclaimed 3-year run on Broadway, he returned to Houston and shortly thereafter earned his Bachelor of Arts in Music Performance from Texas Southern University in Houston, the same prestigious program that produced Kirk Whalum, Yolanda Adams and Lonnie Smith.

Alvin then embarked upon an international professional career, which allowed him to span the globe and share the stage with Jazz and R&B legends such as Ahmad Jamal, McCoy Tyner, Gerald Levert, and El Debarge. The philosophy of this man and his music is as simple as it is complex. He says, "In the scope of the inception of my music, my vision is based in love and passion."

He poses the question, "Why do what you do, without loving what you do?" He believes that he is… part of a generation that has placed passion apart from the music. "But I believe that without passion and God – there is no music."

Month to month
Monday at At Pearland Location
Month to month
Thursday at At Pearland Location
Month to month
Friday at At Pearland Location
Claire M
Claire holds her Bachelor's in Music-Vocal Performance from the University of St. Thomas. She has over six years of vocal training, over eight years of piano study, and over nine years of experience singing in choral groups. She has sung soprano with the University Singers at the University of St. Thomas for the past four years and has also acted in pop shows and opera/musical theater workshops.
In Spring 2021 Claire won fourth place for her category in the Greater Houston NATS (National Association of Teachers of Singing) competition. Believing that music is a form of service, Claire has sung at several different churches in the Houston Area and is currently a staff singer at St. Bartholomew's in Katy. She plans to pursue a Master's Degree in Sacred Music at the University of St. Thomas starting Fall 2021.
Claire is experienced in teaching both piano and voice students of all ages and is excited to share her love of music with the students of Allegro!
No timeslots available at the moment.
Gabrielle T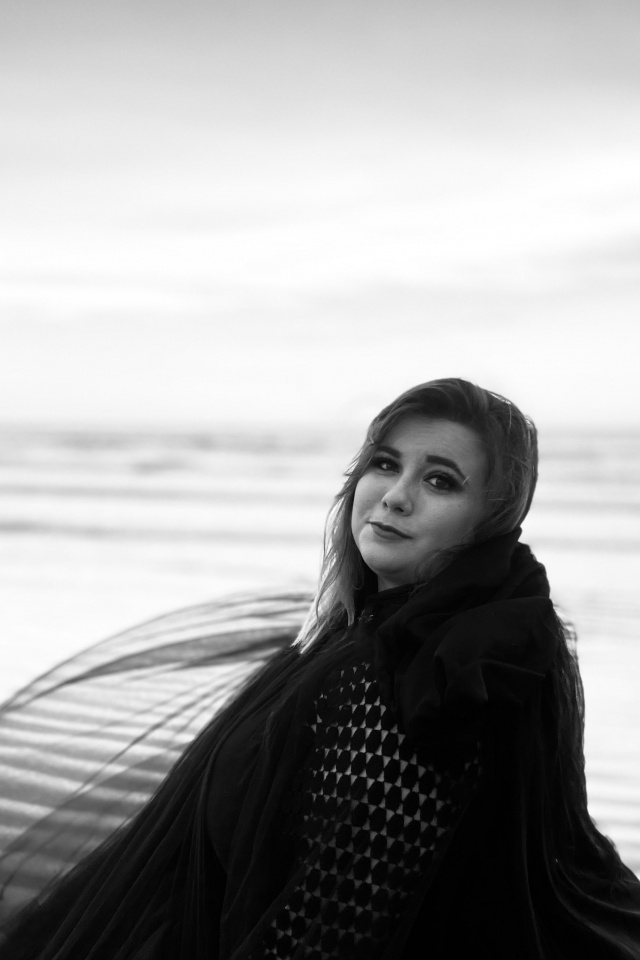 Gabrielle Tyler is a classically trained soprano that is finishing her Bachelors of Music in vocal
performance at Houston Baptist University. Her first and most recent role was as Donna Elvira in
HBU's production of Don Giovanni under the direction of Emily Speck.

Gabrielle is a two time recipient of the St. Timothy's Episcopal Church, Artist Residency
Scholarship as well as being awarded as the inaugural recipient of the John Kueger "Joy of
Singing Scholarship" funded by the Houston Cecilia Chamber Choir. She was a finalist in the
2021 Greater Houston NATS upper level division and has also participated in the 2017 Martin
Luther Festival, Berlin Germany. Gabrielle is currently a voice and piano teacher at the Allegro
Academy and is exploring vocal techniques and styles outside of classical singing. She prides
herself in having a studio culture that is very nourishing and explorative of students' natural
talents and instincts. As her collegiate career comes to an end she looks forward to even more
opportunities on the stage.
Gabrielle teaches both in-studio and in-home lessons. To book an in-home lesson please contact the Academy.
No timeslots available at the moment.
Mayen A-In Home
With an eclectic musical taste, and exquisitely unique, diversified upbringing, Mayen's musical palette is inclusive and sweetly influenced by every musical genre. Mayen is a proud, native Houstonian, and has been teaching and tutoring for over 10 years. She loves helping her students discover their amazing talents, explore exciting new musical genres, set achievable goals, overcome challenges, encourage consistent improvement, and instill discipline and high quality performance. Mayen is very patient, kind, and has experience teaching students (from age 4 to adult).
Miss Mayen is especially grateful for her most recent piano performance engagements (California Concerto Weekend 2015, 4-time Houston Symphony Spotlight performer - Spring 2015, Piano Texas International Academy & Institute 2015, International Keyboard Institute & Festival 2015, and California Concerto Weekend 2016). She hopes to continue a good balance between teaching, composing, and performing music.
Mayen loves God, family, music, tennis, traveling, learning languages, and encouraging everyone to pursue their dreams, wholeheartedly and without apology. She is excited to share her many musical gifts with students of the Academy.
Miss Mayen teaches in-home lessons. To book an in-home lesson with Miss Mayen please contact the Academy.
No timeslots available at the moment.
Natalie G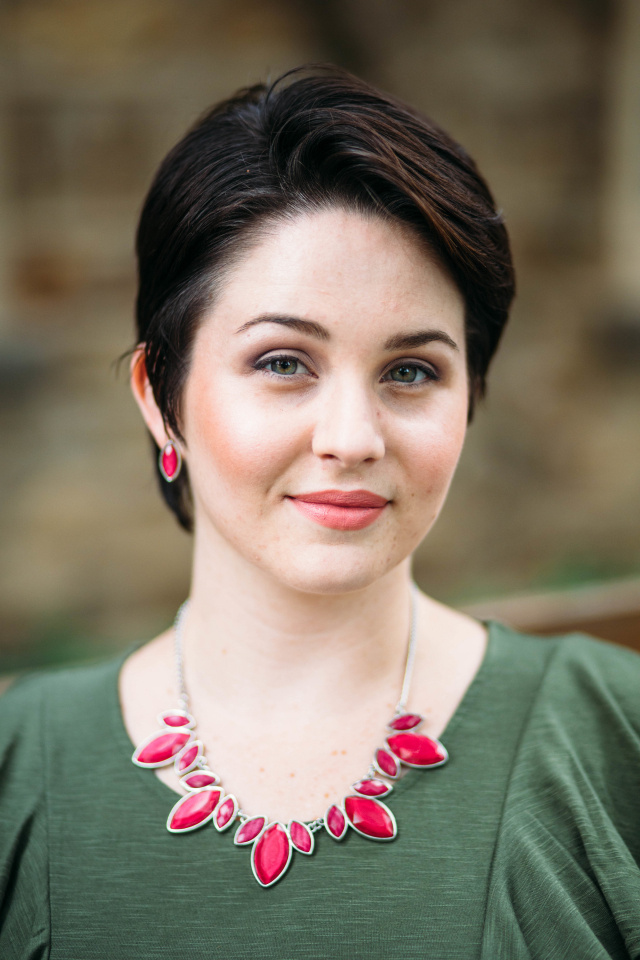 Ms. Natalie is an established professional, with a master's degree from Westminster Choir College in Vocal Performance and Pedagogy. Ms. Natalie is proud to have taken voice with established and active pedagogue Dr. Kathy Kessler Price and coached with Dr. Akiko Hosaki at Westminster, as well as Dr. Rebecca Hays at Texas Tech University. She hails from Muleshoe, Texas and she received a Bachelor's in Music Education from Texas Tech University and taught middle-school choir until deciding to pursue a degree in performance in New Jersey. She also has run her own studio for several years in Lubbock. Natalie has enjoyed an involved performance career as both chorister and soloist, performing the roles from Rosalinde in Die Fledermaus with Westminster Opera Theatre to a Valkyrie with Princeton Community Orchestra. In July of 2019, she also spent time in Nice, France coaching art song with Dalton Baldwin and opera arias with Lorraine Nubar. Natalie enjoys spending time with her husband and 2 dogs and 2 cats, gardening, and exploring local restaurants. She is thrilled to share her passion for vocal arts and piano with students of the academy.
Ms. Natalie teaches both in-studio and in-home lessons. To book an in-home lesson with Ms. Natalie please contact the Academy.
Month to month
Monday at At Pearland Location
Month to month
Friday at At Pearland Location
Month to month
Saturday at At Pearland Location
Ruben V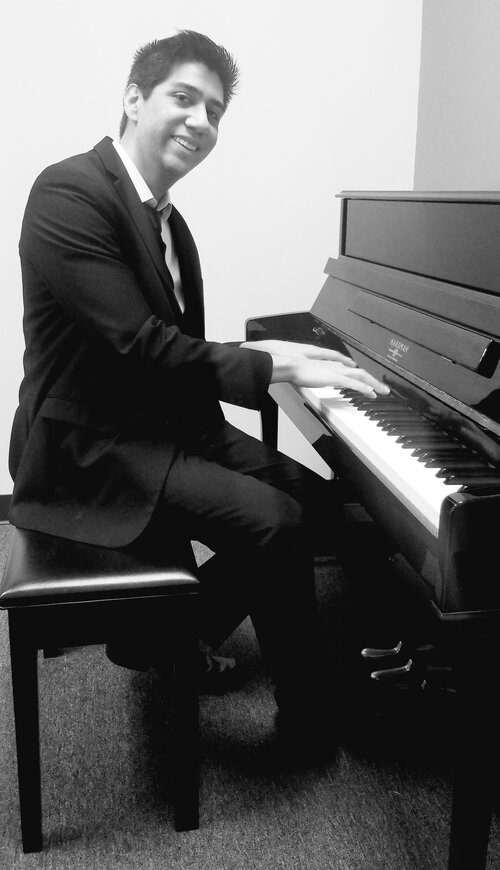 Mr. Ruben is a pianist and vocal soloist from Houston, Texas. Ruben began his vocal studies at San Jacinto College and studied under Dr. Paul Busselberg. In 2012, won 1st place College Men's division at the National Association of Music Teachers Singing competition. In that same year, he participated in Opera Orvieto and worked with Dr. Todd Queen from Louisiana State University and Nyela Basney from North Park University. In 2013 he continued his studies at North Park University in Chicago, Illinois under the guidance of Nyela Basney. As an Undergraduate, Ruben had many opportunities to perform roles for both the Undergraduate and Graduate opera productions at North Park University including The Ballad of Baby Doe, Signor Deluso, and La bella dromente nel bosco. During these productions, Ruben had performed a total of 5-7 roles for each performance night. He also worked with Opera Directors of the Chicago Area such as Chicago Lyric Opera with Phillip Kraus, Chicago Lyric Opera with Directors Michael LaTour and Erik Friendman.
Proceeding his vocal studies at North Park, Ruben took the opportunity to learn from a few of Chicago's best pianists including Chris White and Bobby Schiff. In 2015, Ruben graduated with his Bachelor of Arts in Music from North Park University and returned to Houston where he has been teaching piano and voice for the past 5 years.
Mr. Ruben enjoys getting his student's excited about their musical journey and performing professionally as a pianist and vocalist in the Houston Area.
Month to month
Thursday at At Pearland Location
Month to month
Friday at At Pearland Location
Vanessa H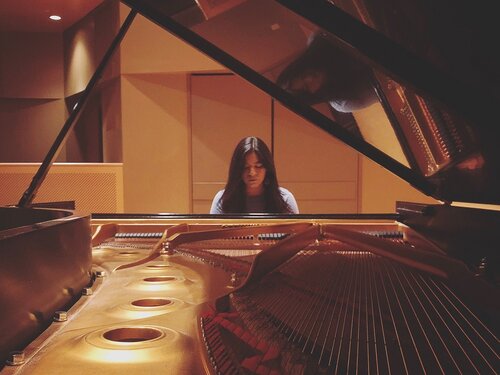 Vanessa is a pianist who holds a Bachelor's degree in Music with a concentration in piano from Texas State University where she studied under Dr.Kyung-Ae Lee. She has been teaching piano privately for 5 years and enjoys every moment of it.
Vanessa began her studies at San Jacinto College where she studied piano under the instruction of Dr.Sarah Spencer. She also holds a double major in audio engineering and was awarded several scholarships for both music and audio. Vanessa has performed in several ensembles such as women's chorus, steel drum band and cello ensemble. She has performed in choir for a total of 10 years and had the privilege of singing with the Texas State Women's Chorus as an alto 1 for several years. Vanessa has performed in multiple masterclasses taught by piano instructors from Rice University and University of Texas. She has also studied secondary instruments in cello, organ and harpsichord. Her favorite composers include Chopin, Brahms, Mozart, and Schumann. Her life goal is to learn all 21 Nocturnes by Chopin along with all 19 of his Waltzes as well.
Vanessa believes every student is unique in their own way and hopes to spread her love for piano along to her students. She strives to find the best teaching method for every student and overcome any challenges they may have.
Month to month
Thursday at At Pearland Location