Unblock Camera/Mic access on a computer
Check both your browser and operating systems settings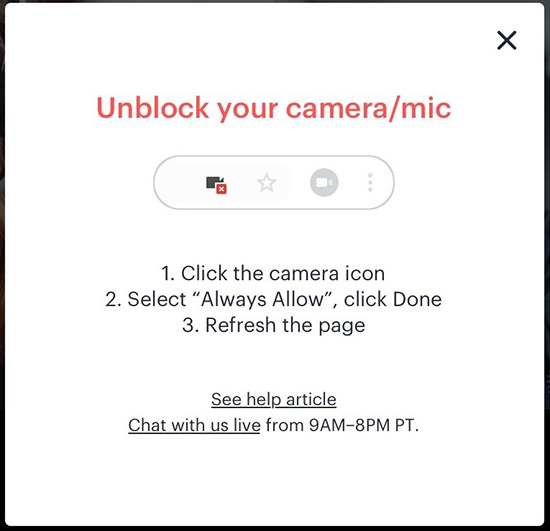 When you click on your cam/mic buttons, do you see the unblock message above?
If so, this means that your camera/mic is blocked by (1) your browser or (2) Operating System. Learn how to fix this below!
---
Chrome users
To unblock your camera/mic follow these steps:
Click the camera icon — in your browsers address bar, top right
Make sure that "Always allow" is selected
Click done
Refresh your browser
Chrome users see this.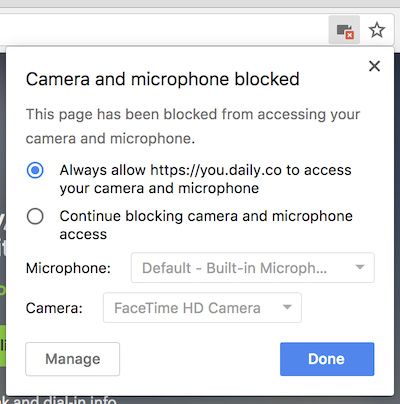 ---
macOS users — check Systems Preferences
Apple introduced new security and privacy features with macOS Mojave. Learn how to enable camera/mic permissions under System Preferences.
macOS Mojave and later released a security setting that requires you to grant the operating system camera and microphone permissions, under System Preferences.
IMPORTANT: You must grant each browser camera/mic access.
Give camera and mic access
Go to System Preferences > Security & Privacy > Camera.
Click the box next to the browser you're using. It'll quit and reopen your browser.
Do the same for Systems Preferences > Privacy > Microphone.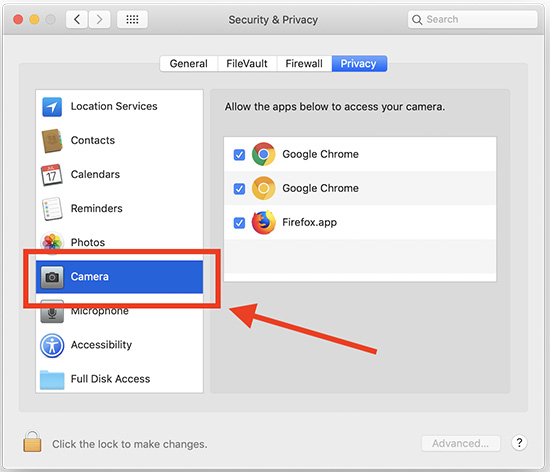 ---
Windows Users
PLEASE check for Systems Updates! This Lifewire post is helpful.
Do you have a program that automatically opens at startup, which uses your camera?
We have reproduced an issue where one popular program, when auto-starting, does not close cleanly. It still claims access to the camera even after it's closed.
Turn off the program automatically opening at startup. Now reboot.
Reboot
If you haven't already...REBOOT your computer. Your system needs to clear out any old issues.
Run the official Google test:
This is a page created by Google (not by us). If it can't see your camera and microphone, Google is saying something is wrong with your browser.
Top Issues
Using an external cam/mic? Make sure it's selected in your Settings Click More > Cam/mac settings > Set your cam/mic as the Default